Accessories and equipment
See the range of accessories for an even better flying experience!
We offer a wide range of more than 2,000 spare parts for our machines, most of it we are able to dispatch within a few days from order all over the world.
In E-shop they are logically ranked under specific type of paramotor.
From spare parts for the skeleton and the frame, through all parts of the engine and exhaust system to all parts of the electrical system.
Just choose…
The propellers undergone many years of development from classical laminate through aeroelastic to modern composite propeller.
We currently offer more than 10 types of two and three blade propellers for all our paramotors ranging from TOP 80, over a two and three blade RODEO props up to carbon series of props called RAINBOW for paramotors Instinct.
Our propellers are characterized by quality construction, troubleless installations, used first-class materials and unique Nirvana design.
The lightest seat compatible for:
Instinct | Rodeo | Ranger
– lighter by almost 2 kg compared to the original, including new carabiners
– tested for loads up to 150 kg
– tested according to the new standard ČSN EN 1651: 2018 (E)
– service life 15 years!
Revolutionary Pod harness for dedicated XC hunters, true thermal feel – in both PPG or PG modes. This new concept was designed to bring you as much comfort as possible while not sacrificing balanced sensitivity needed for proper thermaling.
Can be fit to any F-light.
A completely new revolutionary concept of a comfortable and fully hooded seat for maximum performance. The seat is balanced and at the same time sensitive to weight transfer in the seat thanks to the location of the main carrying carabiners and the size and shape of the seat.

It features excellent glider feedback required for accurate thermal flying. The "cocoon" reduces resistance and turbulent flow around the seat, which significantly reduces fuel consumption. Equipped with a light counter for devices, two side pockets.

The rescue system is located under the pilot's thighs and is activated towards the right side.
HOT 5 heated gloves are specially designed for paramotor pilots flying in cold conditions.
The gloves use energy efficient metal fiber heating elements which are flexible and safe to wear.
The heating elements are located on both sides of the hand, one on the back and the other in the palm.
The heating ratio is 70% on the back and 30% in the palm. This provides the ultimate heating experience even when flying in cold conditions.
Helmet Full Contact 5 builds on previous succesful models FC3 and FC4.
It is the lightest helmet in its category with plenty of accessories.
It is possible to connect various radios via connection cable, also connect BT100 bluetoth unit and by means of it connect cell and other external devices.
New Helmet Full Contact 4 is developed especially for powered paragliding.
Due to the used materials (mainly carbon) is FC4 the lightest and safest helmet in its class.
Smoke system – fancy smoke element what revives every single air show!
Whether you fly Parabatix, or you just want to smoke your friends, or create an effective element to your picture or video.
By pressing a button on the remote control you release as much smoke as you need.
Smoke system is suitable for any paramotor – you can easily fix it on the exhaust pipe using a rivet nut.
AGAMA – Water Rescue System
Agama is a very useful product for those who are flying often above the water.
Using the Velcro strap, you attach it to your paramotor in a few minutes.
It's light and you can not even notice during the flight.
The advantage is that it can be used repeatedly – just replace the cartridge with a chemical fuse.
Activation takes place either manually or automatically when AGAMA inflates 3s after contact with water.
In 2016, Nirvana came up with a groundbreaking novelty in its product line – Instinct LHP with low hang points!
The low hang points bring a feeling of freedom, bring an element of more active piloting of your paramotor and increase your maneuverability during slalom flying.
Flying on the low hang points will allow you to make more use of the energy of the whole body when piloting your paramotor!
The low hang points can be used both in slalom disciplines and for those who like to play in cross country flights.
Fully adjustable seat for Nirvana Colibri, Nirvana Top 80.
Safety is ensured by two leg and one chest strap, the reaction torque of the propeller is compensated by a cross strap. Pilots will appreciate the two practical pockets in the thigh area.
The seat is supplied including joints and a press carabiner for attaching the seat to the paramotor skeleton.
In the shoulder straps of the seat there are eyes for installing the backup parachute straps. The lower part of the seat is ready for the installation of the lower ZP container.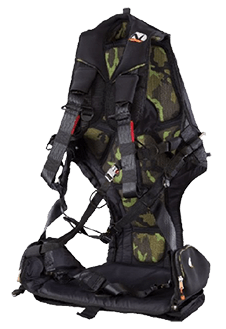 Harness INSTINCT New - KAMO - bottom rescue chute container attachement
The fully adjustable harness for paramotors Instinct.
Safety is ensured by two foot and a chest strap, the reaction torque of the propeller compensates cross strap.
Pilots will appreciate the two practical pockets on the thighs.
Nirvana original design.
INSTINCT LHP - KAMO Harness
(Low hang points)
Low hang points will allow you to use energy of your body during your pilotage.
This sytem is great for those who love to play during cross country flights, but also for those who compete in slalooms.
In case you become bored with LHP or in time you want to share it or sell as second hand to others who prefer our standard semihigh hang points, simply change the harness with another hang system and you can fly….
This harness is for pilots of the weight limits 50-70-90 kg.
The fully adjustable harness for paramotors Rodeo and Colibri.
Safety is ensured by two foot and a chest strap, the reaction torque of the propeller compensates cross strap.
Pilots will appreciate the two practical pockets on the thighs.
Nirvana original design
F-light&Go Raincover Sleeve for your F-light
Which can even fit in your neatly packed glider.
Whole paramotor including propeller and cage could be easily carried like a backpack anywhere you go.